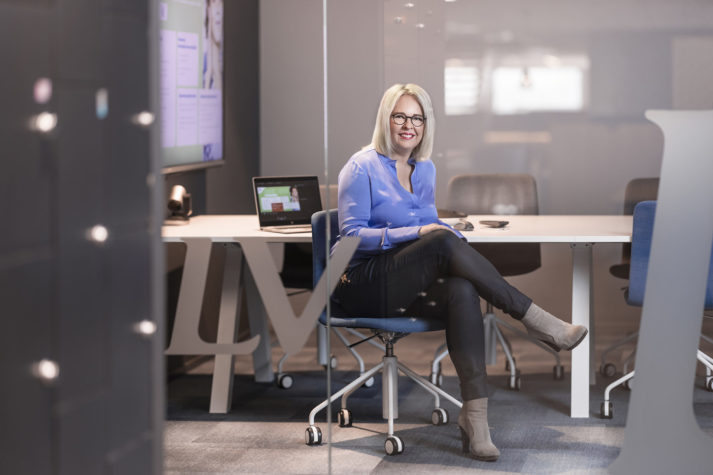 SANNI VÄINÖLÄ, SENIOR BRAND MANAGER, LV
As the Senior Brand Manager, Sanni Väinölä is responsible for our LV brand. Sanni's job description is very diverse, covering the strategic development of the brand, multichannel marketing, product concept development, product portfolio management as well as sales support and export marketing. In addition to creative work, her job description also includes working with numbers.
During her 12-year career at Berner, Sanni has worked in many different positions. She was involved in the launch of the GreenCare brand and the Free mosquito repellent, and began working in her current team seven years ago with responsibility for the XZ and Oxygenol brands in addition to LV.  Sanni has recently been focusing on the expanding LV brand and the brand's growing targets, including the newly launched LV Oat well-being series for pharmacy distribution.
What do you like the most about your job?
I love the diversity of tasks related to working with the LV brand. I like both the planning and hands-on tasks included in my work. Sometimes I lead big marketing campaign negotiations but have also participated in building product stands at our warehouse.  My greatest passion, however, is the development and commercialisation of new products.
What do you think is the best thing about working for Berner?
Developing, learning new things and constant training are very important things that I have been able to experience throughout my career at Berner.  At Berner, responsibility and freedom go hand in hand – you get responsibilities, are trusted as a professional in your field and have the freedom to pursue commonly set goals. I also get to work with people who are motivated, enthusiastic and passionate about their work, which gives me energy for my own work as well. Being surrounded by like-minded colleagues helps me to always do my best.
How is the growing importance of responsibility reflected in your work?
Responsibility is in the DNA of the LV brand, so it's a very important part of my job. In my daily work, I examine and promote issues related to responsibility, such as how we combine the aspects of consumer expectations, responsibility and product safety. How we make decisions on the basis of sustainable development and how we communicate these to the consumers. Or what kind of raw materials we use, what kind of packaging we use now and how the materials could be developed over the next three years.
What does the purpose of Berner's existence, protecting tomorrow, mean to you? 
For me, protecting tomorrow is very much about responsibility. In addition to our constant efforts to make the high-quality products we manufacture even more responsible, domestic origin and production are also of great importance to me. We employ people in Finland and pay our taxes in Finland.  At the same time, I think it's great that the company is steadily growing through acquisitions, and we are looking for opportunities to export our expertise to other countries as well.
Taking care of our staff is also a part of protecting tomorrow. The happiness and health of employees means that they are also able to do more for themselves, their families, the company and the society in general.

How do you spend you spare time?
I spend my spare time with my family and friends. I enjoy taking walks, going to the gym or just relaxing on the couch. Occasionally, I also play tennis and golf and go downhill skiing. In addition, I have always enjoyed relaxing with good books, movies and TV series.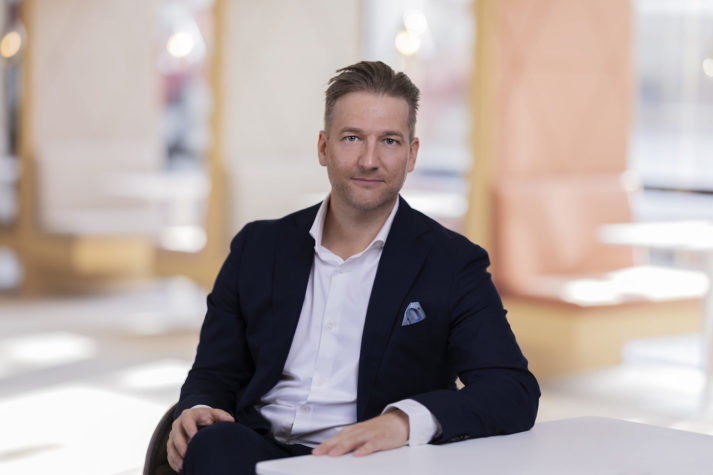 MAIK BECKER, EXPORT MANAGER, KORREK
Maik Becker has been working at Berner for almost three years as an Export Manager for KORREK, Finland's best-known and market-leading car care brand.  Maik follows a strategy-based export roll-out approach and entered with KORREK new markets in the DACH region (Germany, Austria, Switzerland), the Nordics (Sweden and Norway). Maik will keep the focus on expending KORREK export business further.
KORREK was founded in 1963 and is Finland's best known and market leader car care brand. All KORREK products are 100% developed, tested and manufactured in Finland in our own production facilities in the Finnish municipality of Heinävesi.
What do you like most in your role?
I'm working closely with a team of very motivated, experienced and open-minded colleagues, which is a great foundation for my work.  Since I'm working in a multimarket business environment, interacting with people from different countries and cultural backgrounds, my working environment is both very interesting and positively challenging.
What do you like most about working at Berner?
Berner´s company culture embodies entrepreneurship and strongly encourages everyone to make use of this in our day-to-day way of working. There is also a very open working environment here with a low level of bureaucracy, which gives us great opportunities to try out new things and put innovative ideas into action. The atmosphere is warm and family-like and, even though my Finnish language skills are not strong, there's never been a single day that I've felt excluded from the organisation due to that.
How is the increasing importance of sustainability visible in your role?
KORREK products are regulated by strict chemical legislation. We naturally follow the legislation and also always aim to act as a pioneer in leading by example in sustainability within KORREK´s product range. KORREK's product range and packaging solution development are guided by Berner's sustainability targets. In addition to regulatory rules, there are increasing expectations among KORREK´s business partners and end consumers for us to represent a proactive and innovative brand that works towards developing and ensuring high standards in our future sustainable product portfolio. In-house product development and future packaging solutions play an important part in this.
What does the purpose of Berner's existence, protecting tomorrow, mean to you?
As a father of three kids, sustainability is of great importance in all our actions, in personal and business life. Protecting tomorrow as a company purpose is a clear acknowledgement of sustainability and leading by example, with tangible actions aiming at protecting tomorrow.
How do you spend your free time?
In my free time, I focus on spending as much as quality time as possible with my family. I also dedicate a lot of time to different outdoor activities in the beautiful Finnish nature. I'm involved in my kids' sports hobbies, too, and I try to spend as much time as possible in my own hobbies like Crossfit, running and fishing.
LAN TRAN, PRODUCT DEVELOPMENT CHEMIST
Product Development Chemist Lan Tran is responsible for the product development of Berner's own hair care brands XZ, Herbina and LV. Lan is also responsible for cosmetics aerosols. Lan's diverse job description includes designing new products, conceptualisation, selecting new raw materials, formulation, following the legislation and working as an expert.  Lan has been working at Berner since 2012.
What do you like the most about your job?
I like working with different projects and having different kinds of working days. In my work, I am able to develop my own skills and continuously learn new things. In this job, there are always new things to learn. The constantly changing trends and the increasing awareness of the consumers bring additional challenges to my work and projects.
In your opinion, what is the best thing about working at Berner?
I get to work with wonderful colleagues and the atmosphere is pleasant and caring.
How is the growing importance of responsibility reflected in your work?
Responsibility is very much present in my work. We try to choose raw materials that are of plant origin, biodegradable and as local as possible. Luckily, raw material manufacturers are offering more and more options for achieving these goals. The production chain sometimes includes multiple stages, meaning that we must have information about where the raw materials are coming from and how they have been sourced.
What does the purpose of Berner's existence, defending tomorrow, mean to you?
Berner's purpose of existence is reflected in my day-to-day work as I strive to develop increasingly responsible products.
How do you spend you spare time?
In my spare time, I do crafts, take group exercise classes and participate in my children's hobbies and school activities.

JANNE LAINE, PRODUCT GROUP MANAGER
Janne Laine works as a Product Group Manager for plant protection, leaf fertilisers and measuring equipment at the Farmer's Berner business unit. His main areas of responsibility include the development of the product selection together with the clients, the testing of the developed solutions and the management of the technical characteristics of products and different solutions. Janne supervises a small team working in product management and development.  Janne has been working at Berner for a little over three years.
What do you like the most about your job?
I like working in product development, marketing and testing. I also get to cooperate with our principals, farmers and our various stakeholders in the sector. I am highly motivated by the development of our employees' expertise, and it is great to see and experience people learning new things. I also have lovely and inspiring colleagues.
In your opinion, what is the best thing about working at Berner?
Berner strives for strong growth in our agricultural supplies business as well, which motivates our entire business unit and can be seen in the good level of day-to-day operations. We are constantly developing different product groups, which strengthens Berner as an industry operator. We are working with many exciting things!
After graduating from high school, entrepreneurship has been a strong part of my life since I became an owner of the family farm and got involved in its activities. Entrepreneurship plays a key role at Berner, meaning that our values are well in line. I also like the fact that the operations are focused on the essential and that there is no unnecessary bureaucracy.
How is the growing importance of responsibility reflected in your work?
The economic and environmental requirements related to agricultural production are constantly increasing. At the same time, however, we need to increase food production globally, also here in Finland. Food production must be sustainable, and it is our job to evaluate and develop the right products and solutions.
For example, climate change is already affecting agriculture and we must react to this change by creating new opportunities for farmers in the changing production environment. That's why improving the skills of our own sellers and farmers plays an increasingly important role. The products and solutions we create must be of high quality and functional so that the farmers can rely on them.
What does the purpose of Berner's existence, defending tomorrow, mean to you?
Berner has almost 90 years of tradition and expertise in agriculture, and I feel honoured to be able to continue this work.  Berner has always striven to develop the skills of farmers and operators in the sector as a whole, and I believe it's important to continue this work. I want Finland to have a vibrant and competitive agricultural sector now and in the future.
How do you spend you spare time?
During my spare time, I spend time with my family, exercise, play music and do work around the farm.
ANNE NYGÅRD, SHOP MANAGER, BERNER SHOP
In her work as the Shop Manager of Berner Shop, Anne Nygård aims at providing good customer service. In addition to customer service, Anne is responsible for the ordering of products, pricing, displays, the organisation of monthly campaigns and the planning of biannual sample sales together with the product categories.
Anne has been working in her current position for a year and a half. The Helsinki Herttoniemi Shop sells products from Berner's own brands as well as international brands represented by Berner. In addition to the products, Anne has become very familiar with Berner's employees as she started her Berner career at our lobby services in 2019.

What do you like the most about your job?
I like to meet different kinds of consumers and help them choose the right products for them. I enjoy building and decorating displays, and the feeling of succeeding in my work is very rewarding.
In your opinion, what is the best thing about working at Berner?
It's great to get to work and collaborate with so many different product categories and with our iconic brands. It's a privilege to be among the first to hear about, for example, the novelties of cosmetics and beauty trends. A good understanding of the products through various training courses helps me in my sales work.
How is the growing importance of responsibility reflected in your work?
I tell our customers about the responsibility of our products, such as biodegradability and packaging made of recycled materials.  I also strive to take ecology into account in various matters, such as the reuse of cardboard boxes and when ordering products. We also strive to reduce food and animal food waste by selling them at a discounted price as their expiry dates approach, and we also donate them to worthy causes, if necessary.
What does the purpose of Berner's existence, defending tomorrow, mean to you?
I am proud of our own responsible Heinävesi production and products, our own product development in Herttoniemi and the fact that we employ a lot of people in Finland. I can stand behind our brands and warmly recommend them to each of our customers.
How do you spend you spare time?
My husband and I like to go to the gym and do a lot of outdoor activities with the children. We also like to travel. Decorating our home is also close to my heart.